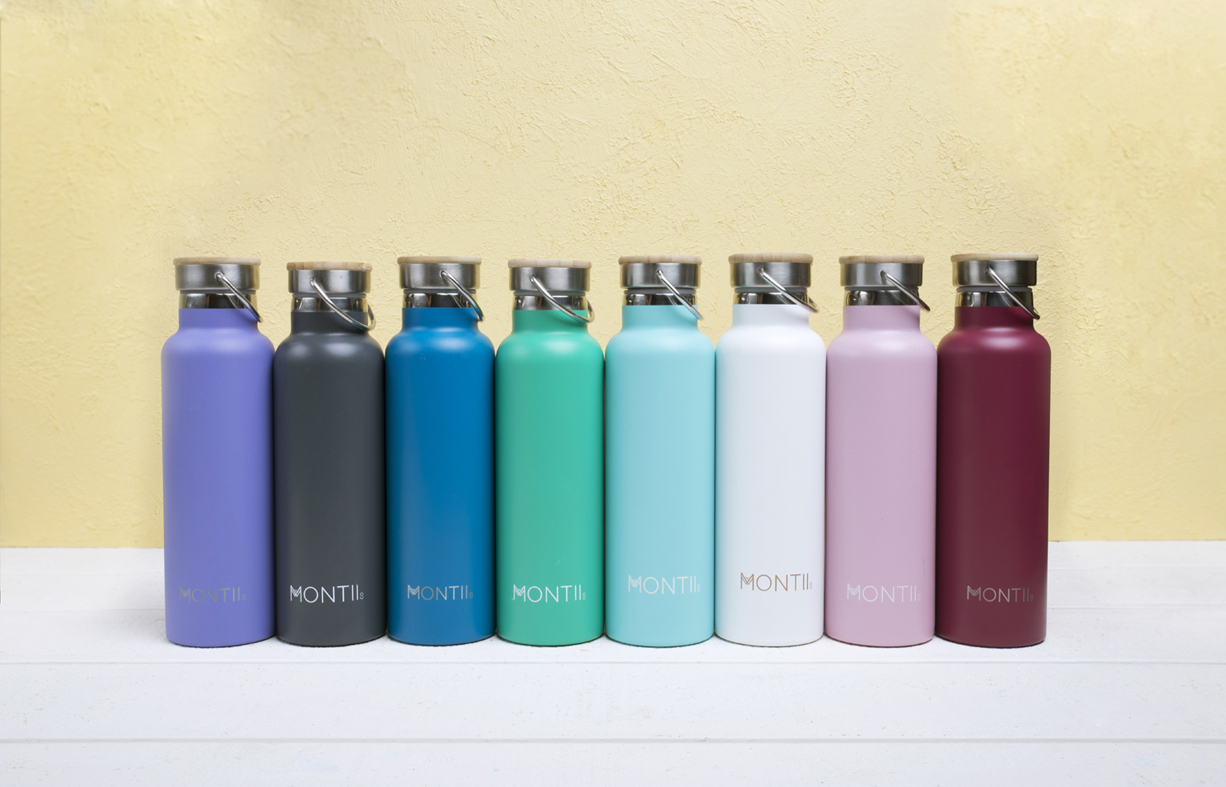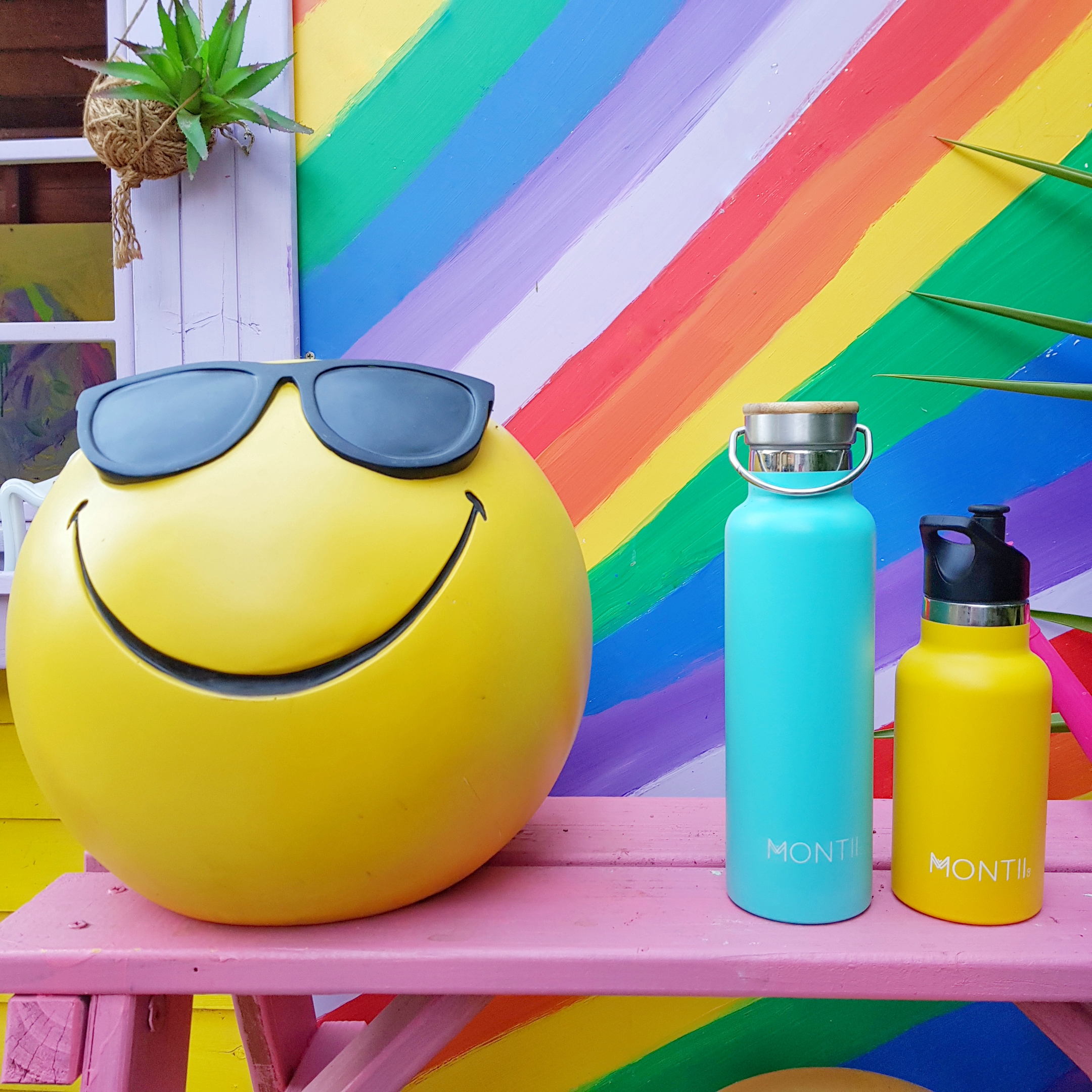 Montii (Original)
Stay hydrated in style with the brand new MontiiCo insulated bottle range! Say no to single use plastic bottles – reusable is the hot way to stay cold.
Let's make this 'get to know you' quick – here's his stats:
600ml capacity

Bottle dimensions: 25cm x 7cm

Gift box dimensions: 28cm x 8cm x 8cm

Keeps liquid cold for up to 24 hours

Keeps liquid hot for up to 12 hours

Wide mouth opening (4.7cm) – making it easy to add ice cubes for uber cold drinks!

Double walled stainless steel

Stylish bamboo lid. Screw to open.

Handle and carabiner included – so you can take Montii everywhere!

Bright, fun colours in a scratch and dent resistant finish

NO plastic that comes into contact with our drink (Silicone seal only)
A lifetime in your hand and nothing into landfill.
Montii Mini
Mini Montii is the perfect playmate for those little hands that like to pick up and go. He's smaller (350ml) and but still has all the coolness of Mr Montii, we've just swapped the top for an easy-sip lid (#nospills) to keep your ragamuffins feeling fresh and your bag looking rad.
Montii Original Smoothie Cups
Meet Mrs Smoothie, she's irresistibly sweet on the eye – but don't confuse her cuteness for softness, she's as hard as they come. When you step out holding her insulated steel body there's no worry of smashing or spilling a drop, she'll keep your liquid cool all day. Fill her up with whatever your kids fancy – smoothies, juice, infused water, milkshakes and more! She also makes a mean iced coffee – coz kids don't get to have all the fun!
Montii Mini Smoothie Cups
Meet Mini Smoothie, she may look sweet but she'll pack some punch! Perfect for our little loves, she has all the sweetness of Mrs Smoothie we've just gone mini! Load her up with your kid's favourite smoothie, milkshake or juice - ah matchy matchy with Mum - that's stylin'.
Stainless steel body means she'll keep your drink cool while you run out the door!
Montii Coffee Cups
Meet Mrs Hot Stuff. She's the calm in the chaos, a hug in your hand. Cradling your fave hot cure-all as you race through the morning. She's sleek, shiny and forever cool to touch, she'll never be too hot to handle or lose a drop in your handbag, promise. She's the one BFF who'll always meet you for coffee! #trueloveforever
Montii Bumpers
Slip a Bumper on your Montii Bottle base for a soft landing on hard surfaces. The durable silicone material gives our bottle extra protection against drops, rubs and scuffs. Keeping your Montii Bottle as rad as the day you bought it. Pick up the same Bumper colour as your bottle, or mix and match to put a spin on your usual style – it's a world of play!
Montii Sports Caps (add on)
Our easy-sip sports lid fits snuggly onto both the Original and Mini Montii. Oh and FYi, the sports lid and bamboo lid can be used interchangeably, pretty rad we know.
Montii Bamboo Lid (add on)
We now sell extra bamboo lids just in case yours has gone walk about!
Montii Straws
The perfect accessory to our Smoothie Cups and Bottles, our straw sets are an eco-friendly accessory your little ones will love
PLEASE NOTE THAT EXTREME CAUTION SHOULD BE EXERCISED WHEN FILLING YOUR / DRINKING FROM YOUR MONTII BOTTLE WITH HOT LIQUIDS.
THE ALTERNATIVE MONTII LID (SPORTS CAP) IS NOT SUITABLE FOR USE WITH HOT LIQUIDS.
WHEN PLACING EXTREMELY HOT LIQUIDS INTO YOUR BOTTLE PLEASE BE AWARE OF THE STEAM WHICH CAN BUILD UP IN THE SEALED SPACE AND EXERCISE CAUTION WHEN OPENING THE BOTTLE.